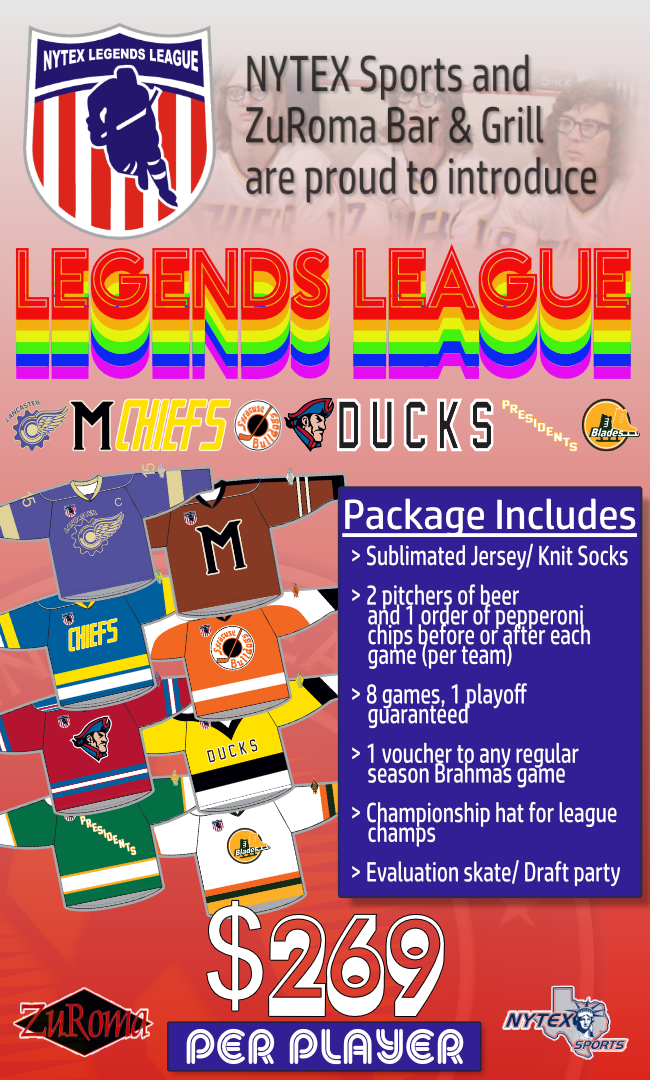 The LEGENDS LEAGUE of NYTEX Sports Centre
We are pleased to announce the Summer Season – with a nod to the best sports movie known to mankind, hockey, and cinema.
Here is a quick rundown of what to expect.
Eight regular season games, and 1 playoff game guaranteed.
2 pitchers of beer and 1 order of peperoni chips for each team each week of the regular season, AND playoffs.
Each player will get 1 voucher (good for 2 tickets) to any regular season Brahmas game next season. League champions will get a snazzy Championship hat (don't worry, we didn't forget about the hats for this past season. They were a little delayed and should be here for you guys at the draft for this next season). If you haven't already peeped the infographic below our theme this season will be Slap Shot.
Please note that due to the expansion to 8 teams this season we will expand to a 2 night league and will now play on Tuesdays as well as Wednesdays.
So what's the cost? $269 per player.
Here are some key dates that everyone will need to know:
Payments need to be in by June 15th to ensure your spot is secure.
Evals will take place on June 16th and 23rd at 9pm.
Slots will be limited and will prioritize new players and will be capped at 26 players per eval skate.
Please reach out to myself and Noodle to pick a date to attend. Draft will occur on June 23rd promptly after the 2nd evaluation skate in ZuRoma. Pizza will be provided. We look forward to another successful season here at NYTEX.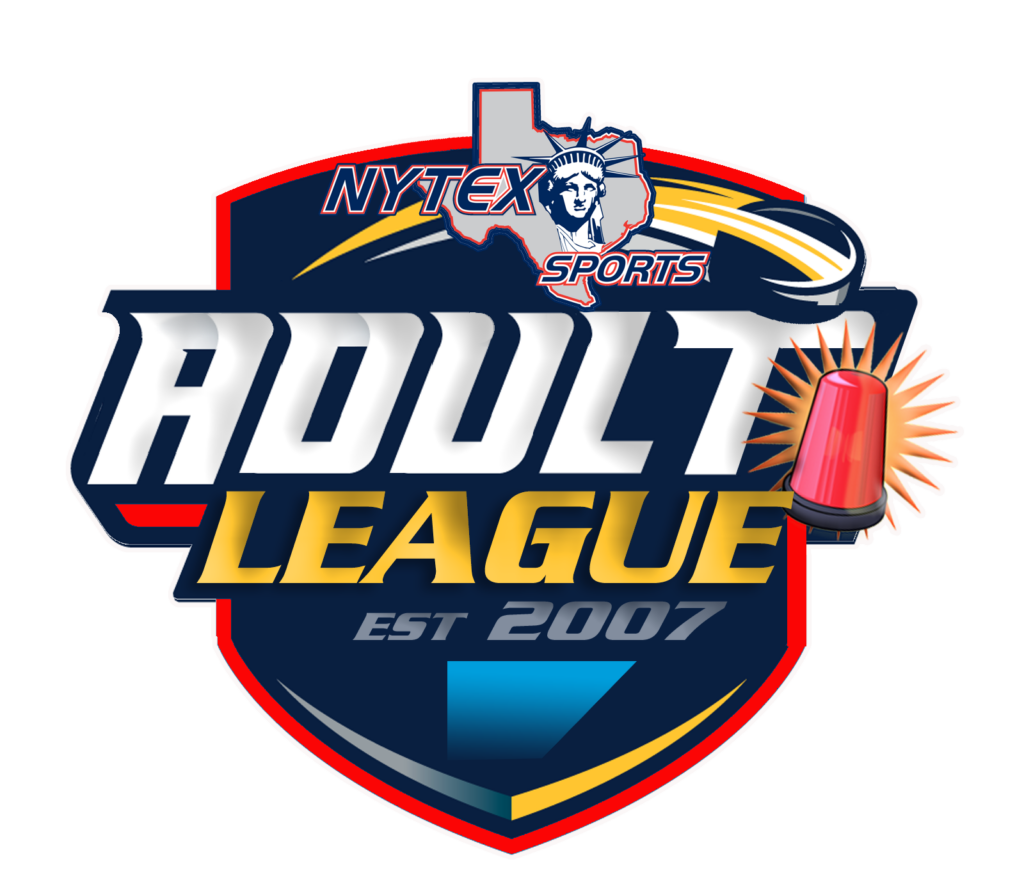 NYTEX's Senior Hockey League is for players over the age of 18.
All games will be played inside the NYTEX Sports Centre.
---
Effective immediately, the NYTEX Sports Centre has updated the rules and regulations.
1.Rule Changes
Effective IMMEDIATELY…there will be a Zero Tolerance Rule for fighting. If you or anyone on your team engages in a fight which results in a game misconduct or ejection, that player will not be allowed to return for the season and their status in the league will be questioned moving forward. In addition, all game misconducts will be reviewed and are subject to additional suspensions above the standard USA Hockey suspension. Also effective immediately, players who receive three penalties in one game will automatically be ejected. We all need to remember that this is a REC league…people go home to families and go to work the next day. We are working on an online system that will post all major penalties and dates of suspensions for players. THERE WILL BE NO REFUNDS FOR REMOVAL FROM THE LEAGUE DUE TO BEHAVIOR ISSUES.
2. Divisions Offered

A, B, C upper, C lower, D upper, and I league play. The NYTEX Sports Centre offers three seasons of adult league play (fall, winter, late spring/summer).
3. Interested to Get Involved?

Teams are always looking to add talent to their teams whether it be a full-time or substitution based players. Feel free to reach out to our Adult League Coordinator, Christina Major-Davis, at [email protected] to put you in contact with the team managers.
Schedule & Standings
Please note that times and date are subject to change
---
Please visit the NYTEX Adult League Official site & find their Facebook Group!