Dallas Derby Devils Roller Derby
NYTEX Sports Centre is the home of the Dallas Derby Devils!
CLOVER CUP – March 31st – April 2nd
RETURNING LATE APRIL, MAY, JUNE, JULY, AUGUST, SEPTEMBER & OCTOBER!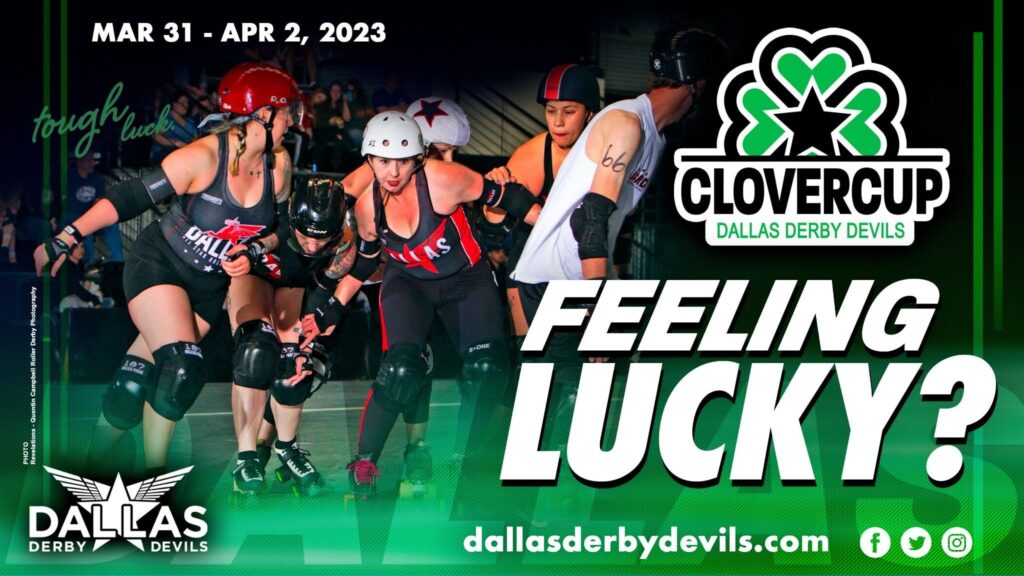 MORE ABOUT THE DALLAS DERBY DEVILS!
MISSION STATEMENT
Dallas Derby Devils mission is to provide all youth, women, and gender-expansive individuals the opportunity to participate in the sport of flat track roller derby at local, national and international levels, to connect with diverse community partners, and to foster camaraderie and self-confidence both on and off the track.
VISION
DDD's vision is to be the competitive roller derby destination in DFW and to lead the growth of the sport by increasing visibility and access for members and fans.
CORE VALUES
We fulfill our mission by abiding by the following core values:
We embrace inclusivity by supporting both the LGBTQIA and BIPOC community
We share mutual respect for each other both on and off the track
We strive for excellence in all our endeavors
We support community service through acts of charitable contributions and participation in public events and entertainment
LEAGUE COMPOSITION
The Dallas Derby Devils consist of five home teams (in order of conception): High Seas Hotties, Suicide Shifters, Wrecking Crew, Slaughterers, and Death Row Rumblers. Our second rank interleague team–Battalion of Doom–assists us in our quest for worldwide roller derby domination.
HISTORY
Here are our previous seasons' Champions:
2005 – Exhibition games only
2006 – High Seas Hotties
2007 – Slaughterers
2008 – Slaughterers
2009 – Slaughterers
2010 – High Seas Hotties
2011 – Slaughterers
2012 – Suicide Shifters
2013 – Wrecking Crew
2014 – Death Row Rumblers
2015 – Death Row Rumblers
2016 – Wrecking Crew
2017 – Slaughterers
2018 – Death Row Rumblers
2019 – Death Row Rumblers
2020 – No Home Games (COVID-19)