THE NYTEX SPORTS CENTRE IS PRIVATE PROPERTY. POSTED SIGNAGE THROUGHOUT THE PARKING AREA ARE SUBJECT TO PERMIT-REQUIRED PARKING ONLY.
The NYTEX Sports Centre & the Enclave at Hometown maintain a Permit Parking arrangement. A limited number of exclusive parking permits are designated for our closest neighbors. This information serves as a public record statement of enforceable consequences for parking violations at the NYTEX Sports Centre. Unauthorized vehicles will be towed at owner expense. At this time there are no additional permits available for the public, but Enclave residents may create an application for the permit and automatically join the waiting list in the order received.
Permit-Required Parking: Designated Area Map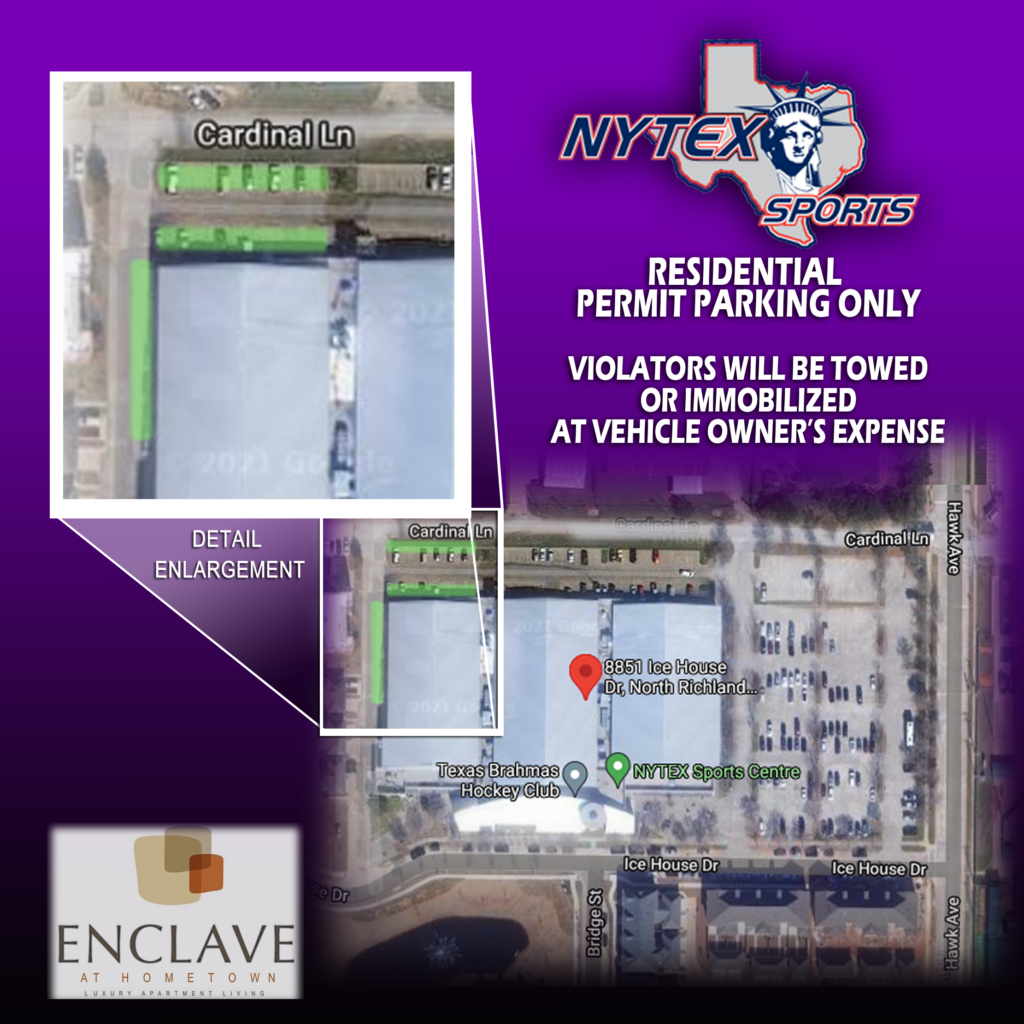 Terms & Conditions:
PERMIT PARKING IN GREEN HIGHLIGHTED, DESIGNATED AREAS ONLY.
PARKING ON GRASS OR LAWN IS PROHIBITED,
VIOLATORS WILL BE TOWED
at vehicle owner's expense. Hang Approved Permit from rear as directed
on permit.One Parking Space per permit (Double Parking is prohibited)
NTYEX SPORTS CENTRE is not responsible for lost, stolen, disabled or
damaged vehicles and reserves the right to have any vehicle(s) removed
from property via authorized wrecker services.
THIS TAG IS NOT TRANSFERRABLE & MUST BE
ASSIGNED and/or UPDATED IN ADVANCE
$10 Replacement Fee If Lost or Stolen
Tag Expires 12/31/2022
Report lost/stolen tags Immediately.
Terms & Conditions available at
NYTEXsports.com/PermitParking

– UPDATED September 28, 2021 –