SCHEDULE HAS LANDED!
| Seven Weeks! | Dates |
| --- | --- |
| Week 1 | June 12 – June 16 |
| Week 2 | June 19 – June 23 |
| Week 3 | June 26 – June 30 |
| ~ Happy 4th! ~ | July 3 – July 7 (No Camp) |
| Week 4 | July 10 – July 14 |
| Week 5 | July 17 – July 21 |
| Week 6 | July 24 – July 28 |
| Week 7 | July 31 – August 4 |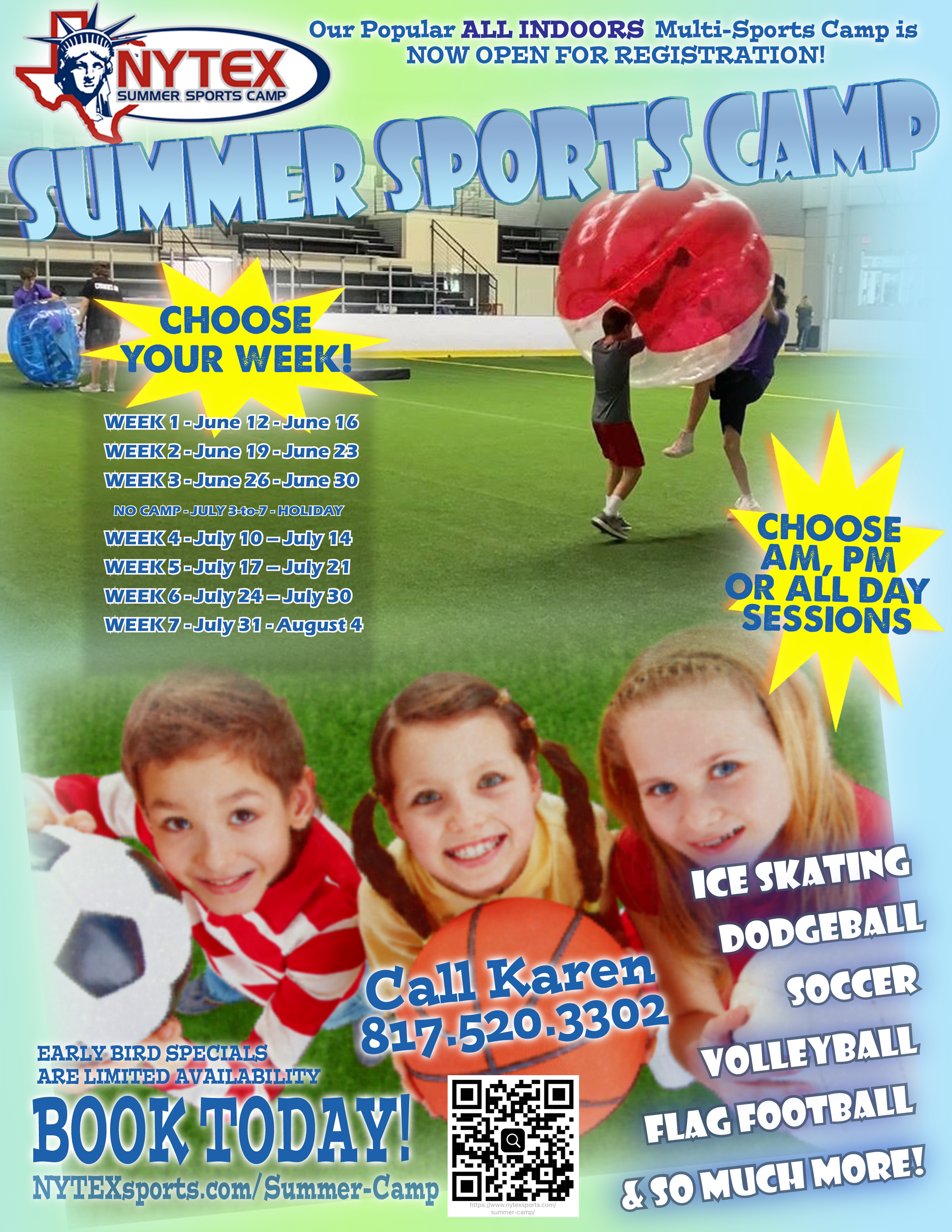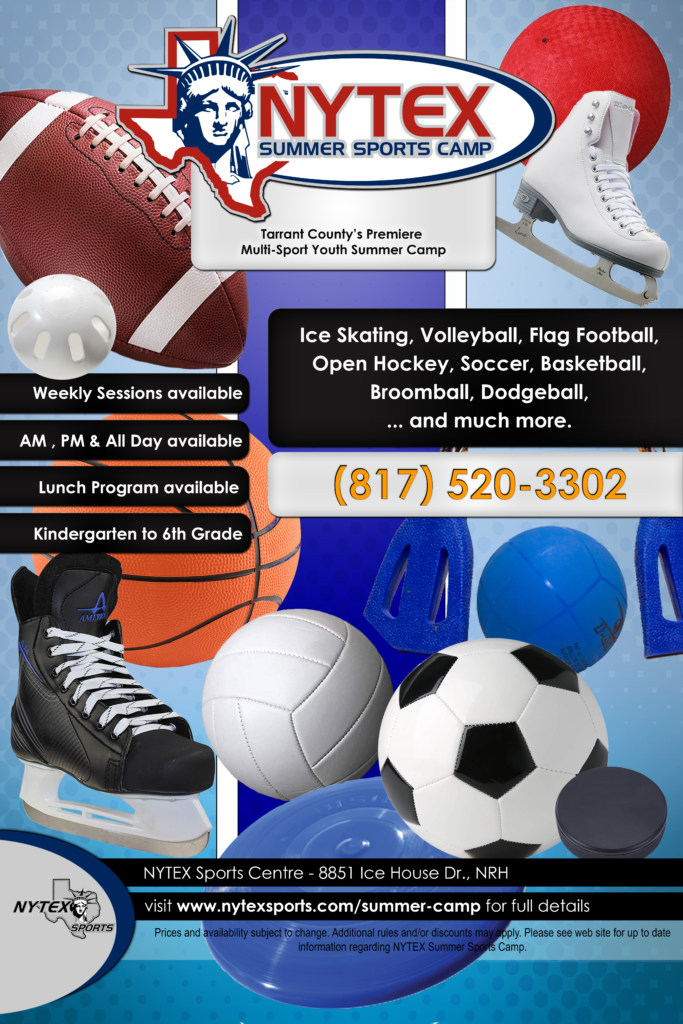 Must call 817-520-3302 or book online – all sessions subject to availability
INFORMATION
The hottest summer event isn't outside, it's inside at Ice House Drive and YOU are invited!
All the fun begins in June and runs through August!
ALL INDOORS MULTI-SPORT CAMP!
Ages: Kindergarten to rising 7th grade (6-12 years old)
Contact Karen Trazzera at 817-520-3302 to register. ASK ABOUT EARLY BIRD SPECIALS!
Runs 7 full weeks!
A.M. or P.M. or ALL DAY sessions are available!
Add Lunch to any session (Daily, 12:15pm to 1:00pm)
AM Session: 8:30am until 12:15pm
Lunch: 12:15pm until 1:15pm
PM Session: 1:15pm until 5:00pm
Extended hours are available for additional change.
* late pick up fees apply *
Play Multiple Sports Including
Ice Skating
Soccer
Dodge Ball
Flag Football
Volleyball
Basketball
Open Hockey*
Broomball
… and much more!
LUNCH AND SNACKS
Lunch available for purchase through ZuRoma's Italian Restaurant.
MENU OPTIONS Each day, Campers can order their favorite lunch options from the following list:
– Cheese Pizza
– Pepperoni Pizza
– Hot Dogs
– Spaghetti with Meatballs
– Spaghetti with Red Sauce
– Chicken Finger Basket
– Fettuccine Alfredo
– Jr. Zu Burger
– Jr. Zu Cheeseburger
– Macaroni & Cheese
– Peanut Butter & Jelly
Snacks are available at the concession stand.
---
FREQUENTLY ASKED QUESTIONS
Q: What does my child need to wear? All activities will take place indoors. Campers should arrive wearing gym shoes and socks. A jacket, gloves and a helmet are recommended for ice activities, but not required.
Q: What happens during a session? Approximately every hour a different sport will be offered to our campers. Throughout the week campers can select from over 10 different sports. Ice skating will be available each session except one day a week when other ice activities will be played. A 15-minute orientation will occur on Monday.
Q: My child doesn't know how to skate. Is this a problem? Many of our campers have never been on the ice before. Trained coaches will help to assist campers along with the use of training "walkers." You will see much improvement and confidence over the course of the week. While not required, campers are allowed to bring helmets and gloves from home.
Q: Can my child bring a lunch or other food? Outside food or snacks is not permitted, due to dietary concerns and the protection of our campers. Personal water containers are permitted if labeled. Please, no disposable store-brand water bottles.
Q: What is the ZuRoma lunch package? ZuRoma's, our in-house Italian Restaurant will offer campers their choice of ten different fresh, hot meals daily. Our lunch package extends campers' session from 12:15pm-1:15pm.
Q: Are snacks provided? Our Concession stand offers a variety of snacks and drinks for your hungry camper. Examples include fresh fruit and home-made baked goods for purchase. Due to dietary restrictions, outside snacks are not permitted. Pricing will be posted at Front Desk. Click here to download the Summer Sports Camp Registration Form
---
Please return all signed waivers to Karen Trazzera at the NYTEX Sports Centre prior to starting your first day of camp.
*Camp is non-refundable. For your child's safety, no parents are permitted near campers. Any discipline problems can lead to suspension from the program. Open Hockey requires full gear (not provided).
---