NYTEX Sports offers year round Public Skates available to people of all ages.
---
Friday Night Ice
Nearly Every Friday (check schedule here) from 6:45 – 8:15 pm
$12 Admission – ONLINE TRANSACTIONS ENCOURAGED 
Skate rentals are $5 or bring your own
Music – Ice Skating – Friends – Fun 
---
Lunch Time Public Skate
Nearly every day 12:15-1:30 pm – ONLINE TRANSACTIONS ENCOURAGED . Grab Lunch at ZuRoma and take a break on the ice!
Come skate with friends and family!  
Experience the thrill of gliding across pristine ice at a public skating session. No matter your level of experience you will have a memorable time with friends.
Pricing
Adult Admission
$10
Under 10 Admission
$10
Skate rental (Figure or Hockey)
$5
Skate Walker
$3
Things you should bring to skate:
multiple layers of clothing
winter wear such as mittens and scarves
thick, tall socks
friends to skate with
Due to the inherent risks in ice-skating it is advisable to bring a helmet; Furthermore, elbow pads and/or knee pads are helpful.
Tired of renting skates? Want your own?
Visit the NYTEX Sports Shop for fitting and ordering information or call 817.520.3306 for info on purchasing your own skates.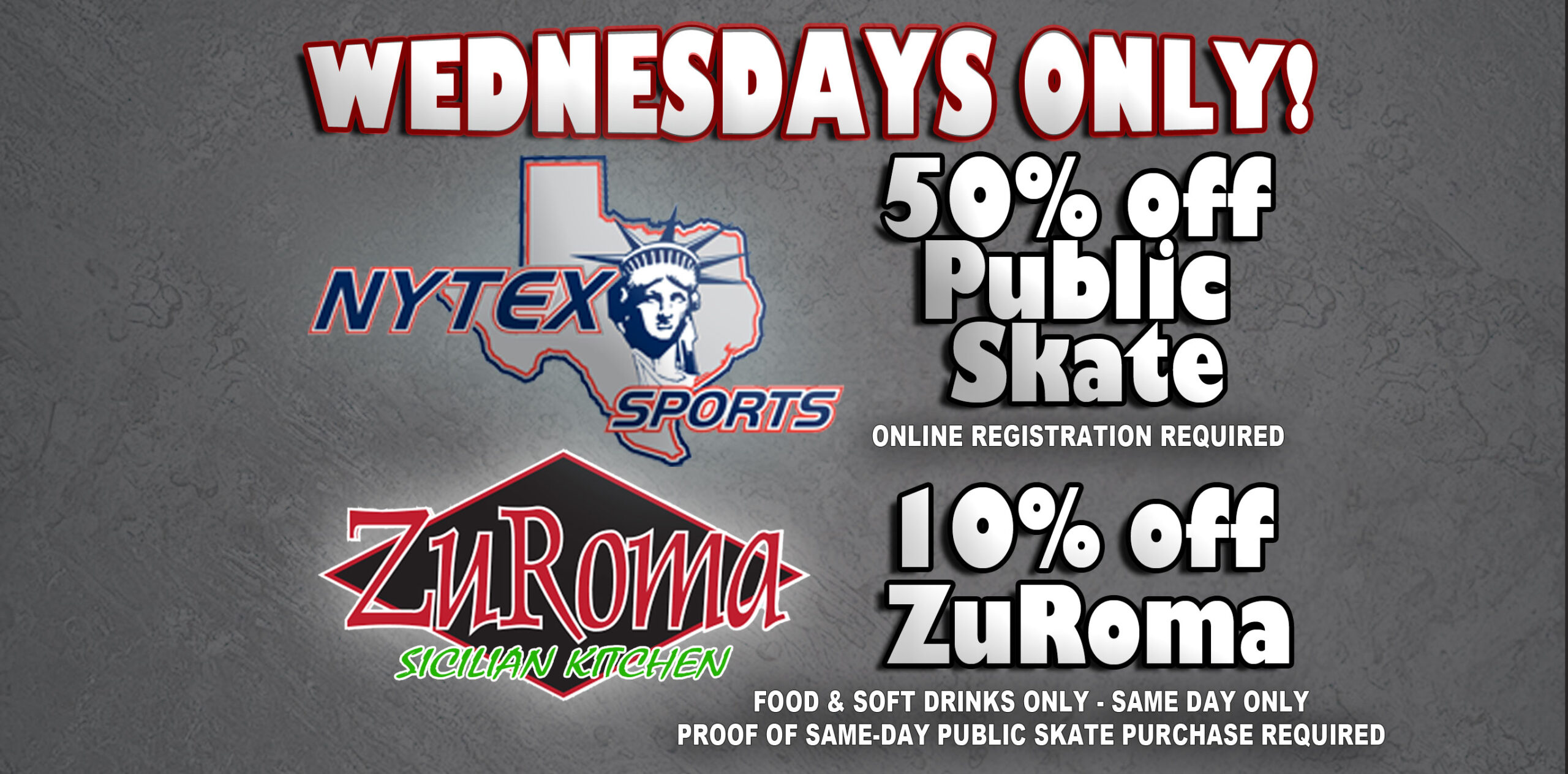 Want to learn how to skate?
Learn about NYTEX Skating Academy
Interested in a ice skating for your next birthday party or booking a private ice event?  Book with NYTEX now!