SKATE TO A NEW YOU!
Ice skating is not just for kids. It's for the kid inside all of us. Whether you're entering a rink for the first time or rekindling this lost love years later, you'll discover the ice is always there waiting for you to come out and explore.
SKATE TO A BRIGHTER FUTURE!
The lessons learned in ice skating are also lessons in life. The confidence and joy you see your kids gain today will become the greatness your kids achieve in the world tomorrow!
SKATE TO SUPERPOWERS!
Imagine your kids growing mightier and mightier with every glide. Our trained instructors give them the physical and mental skills to conquer the day and take on life with confidence.
NEW YEARS SESSION REGISTRATION OPENS SOON!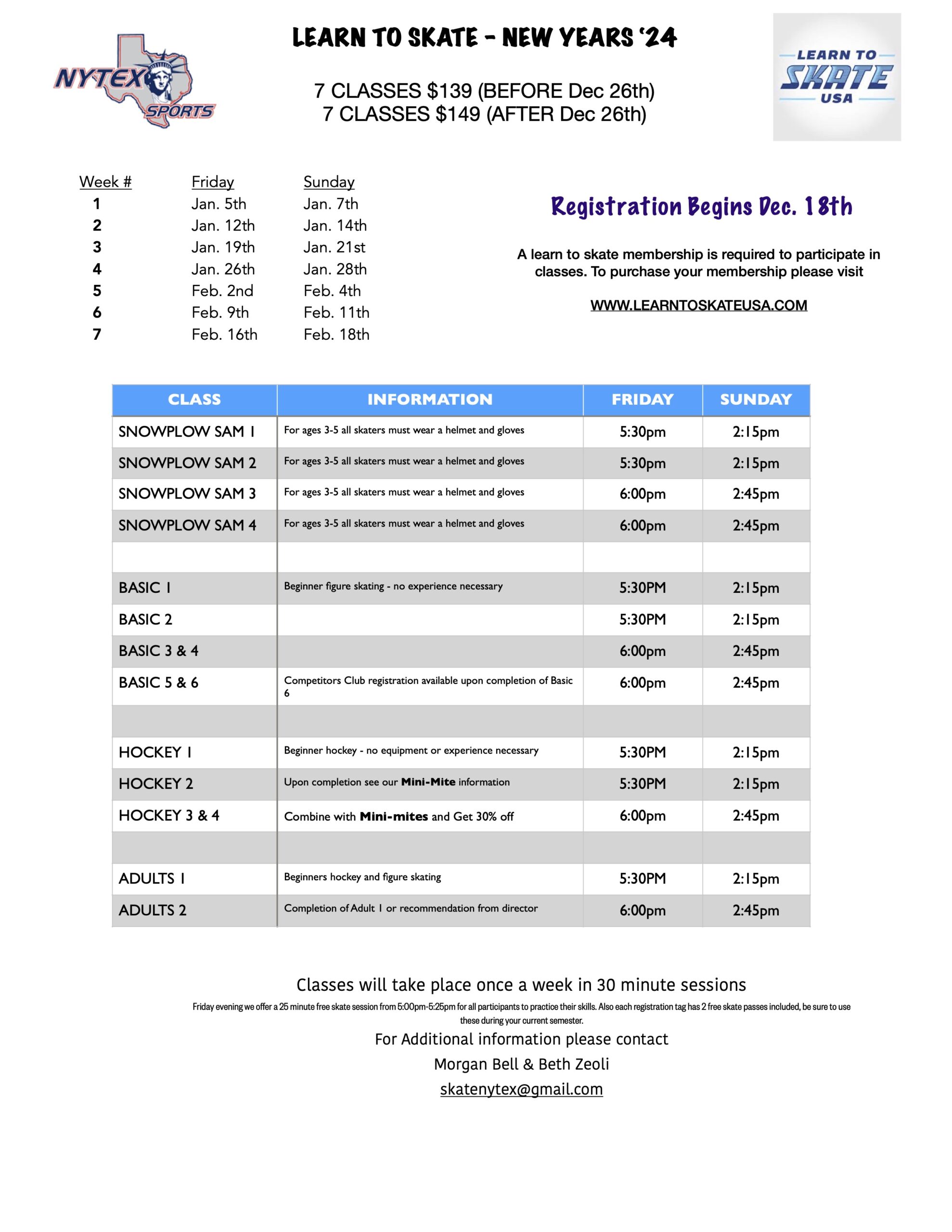 WINTER1 SESSION NOW IN PROGRESS!

---
About Learn To Skate USA
Learn to Skate Level Breakdown:
Snowplow Sam 1: A great starting point for young skaters (ages 6 and under) with little to no skating experience. In this class they will cover the basics of standing, falling, and marching on the ice.
Snowplow Sam 2: A progression of snowplow sam 1 that allows skaters the opportunity to move and glide more across the ice while also learning the basics of backwards skating and stopping.
Snowplow Sam 3: This level focuses on the development of the elements in snowplow sam 2 while also providing more ways of moving across the ice other than basic marches.
Snowplow Sam 4: Snowplow Sam 4 will focus on one foot skating and turning from forwards to backwards in order to prepare skaters for Basic or Hockey classes.
Basic 1: Basic 1 is a great starting point for skaters that are aged 6 and up! It focuses on the fundamentals of skating across the ice, getting up from falls safely as well as stopping. It also introduces skaters to backwards skating.
Basic 2: Basic two develops the fundamentals of skating learned in basic 1 and adds challenges to them. Stopping while moving, turning from forward to backwards, backwards gliding, one foot skating, and much more!
Basic 3: Basic 3 starts to teach the development of edge use in all aspects of skating, forward, backward, curves, and transitions as well.
Basic 4: In basic 4 skaters will develop strength in crossovers, one foot skating, and will also start the beginning process of spinning on two feet!
Basic 5: Basic 5 focuses on increased development in backwards skating, backward crossovers, and backward edges.
Basic 6: Get ready to spin on one foot, learn spirals, and even more transitional elements from forwards skating to backwards. Basic 6 sets experienced skaters up to progress into competitors club and start taking steps towards competing!
Hockey 1: Skaters will lace up their hockey skates to start their journey on the ice. In hockey 1 skaters will focus on the basics of moving, stopping, and getting up from falls.
Hockey 2: Hockey 2 will start to focus more on isolated movements on both legs. It is strongly encouraged to first complete hockey 1 before taking part in hockey 2. Backwards skating will also be introduced in this level.
Hockey 3: In this level skaters will develop skating skills that focus on edges and moving on circles. Crossovers, turns from forwards to backwards, backward stopping, and forward and backwards c-cuts will all be developed and utilized.
Hockey 4: For skaters with an experienced background with hockey skating this level will start to dive into quick starts and one foot skating. All elements taught in this level will help young hockey skaters sprint into the next transitional phase on their way to playing in a league!
Mini Mites: For young hockey skaters that have successfully completed Hockey 1 and are wanting to start playing with a puck, Mini Mites is a great option. For one hour skaters will work with multiple coaches on skating skills, how to maneuver a puck on the ice, and may even scrimmage a little. Mini Mites is designed to help hockey skaters get used to skating in full gear with a stick and puck.
Junior Bruisers: For skaters that are between the ages of 11-17 and are wanting to experience hockey a bit more Jr. Bruisers is a great way to get more hockey action on the ice! In this hour long fast paced class skaters will learn anything from skating drills, passing drills, stick handling, and even team scrimmaging. Jr. Bruisers is a great way to get a taste of the action while still completing the hockey classes in the Learn to Skate program.
Learn To Skate FAQ
Q: My child is interested in skating but has little or no experience on the ice. What class would be best to enroll them in?
A: Nytex has a great team of coaches that would love to help get your skater moving on the ice! If your skater is younger than 6 years old it is strongly recommended to enroll them into our Snowplow Sam classes starting with Snowplow Sam 1. If your skater is above the age of 6 we recommend either Basic 1 (which focuses on fundamentals of figure skating) or Hockey 1 (which focuses on the fundamentals of hockey skating) based on their preference!
Q: When do classes take place? How long is each class?
A: Classes take place once a week on a Friday night from 5:30pm-6:30pm or Sunday afternoon from 2:45pm-3:45pm depending on whatever schedule you register for. Each class will last 30 minutes. Each registration will take place over the course of a 6 or 7 week time frame!
Q: Are skates provided for the class?
A: Yes! Skates are included in the registration price for a Learn To Skate class.
Q: How do I register for classes?
A: Our registration process is very simple! Skaters can either be registered for classes over the phone or in person. Once you have signed up for classes the next step would be to head over to the www.learntoskateusa.com website to purchase an annual learn to skate membership for $16.00. Memberships will need to be renewed in July. This membership is required in order to participate in our Learn To Skate USA program.
Q: What is the learn to skate membership? What comes with it?
A: A learn to skate membership is required to participate in any of our Learn to Skate programs! Benefits such as secondary sports insurance, progress tracking apps, access to the monthly magazine, and parental educational tools and resources to better understand skating are all included in this membership.
Q: What happens If I miss a class?
A: Missed a class? No worries! With each registration you are allowed two make up classes in the day in opposition to what you registered for. This means if you miss a Sunday class you are able to make the class up on a Friday of your choosing. Please email [email protected] if you are needing a make up classes so we are aware and can help you adjust if necessary!
Q: When is registration open to sign skaters up for classes?
A: Registration typically opens at the start of the last week of the current semester of classes. You can register for a discounted rate for up to two weeks after registration has opened. After that registration for classes returns to the normal rate.
Q: What should skaters wear on the ice?
A: Prepare for the cold! Long pants, leggings, jeans, long sleeve shirts, vest, and jackets are all welcome! We also strongly encourage gloves to protect and keep skaters hands warm when working on the ice. While helmets are only required for Snowplow sam 1, they are always welcome! Protective gear of any kind is always a good idea when first venturing out onto the ice.
Q: Is full hockey area required to take part in the hockey classes?
A: When it comes to hockey classes with our Learn To Skate program full hockey gear is not required at all but always welcomed, especially if the skater is wanting more practice in moving in the gear! Once skaters get into mini mites and jr. bruisers classes then full gear will be required since they will begin working with pucks on the ice.