Open Hockey sessions are generally designed for skaters who want to skate with full gear, a stick, and a puck. Different than a Public Session where skaters can just skate, skaters during Open Hockey sessions can work on their individual skating or stick-handling skills or play small hockey games with their friends.
Full equipment must be worn at all times, including an approved helmet with facemask. No half-shields are allowed.
Effective September 20, 2020: No coaches or private lessons are allowed on the ice during Open Hockey sessions.The maximum number of players allowed on the ice is twenty-four skaters and four goaltenders.

Reservations
Reservations are made online only through our convenient online payment system. This method better enables a contactless check-in process at the Front Desk.
Admission fee per session: $15
ADULT DROP-IN
We understand that Adult Hockey players need some extra ice time wherever they can find it. NYTEX Sports is here to help!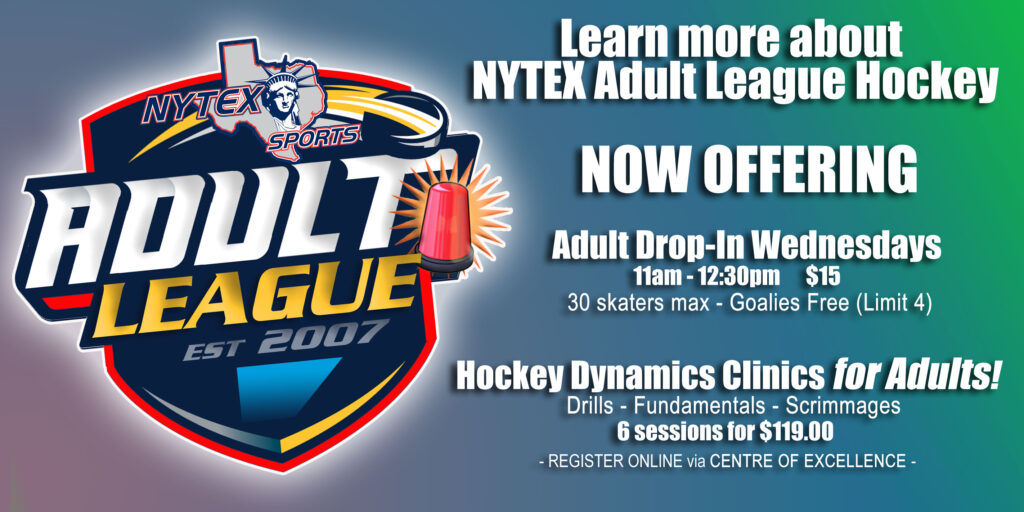 Whenever "bonus" or "previously unscheduled" drop-ins happen, these resourceful individuals are usually the first to know. So, be in the know, yo.
You must pre-register online before attending adult drop-in.