D1 Announces Spring & Summer Skills Sessions & Schedules!
Now that we are approaching the off season, it is time for many of the athletes to begin thinking about preparing for the next one. A huge component of this is the strength and conditioning piece that provides each player with huge gains that not only impacts their performance in a positive way, but breeds confidence and motivation to be the best they can be. At D1 we are focused on delivering the best service and bring opportunities to every Jr Brahma player so they can stay ahead and prepared
Here are some options that we can use your help in distributing to everyone …
---
1.) Off-Season – Part A (Timeline: April & May – 2 months)
> Jr Brahma players can select either 2-days/week or 3+days/week – These would take place at D1 Colleyville.
– 1 month unlimited workouts = $249; Promotional Offer – $189 (24% off)
– 2 days / week = 2 months = $351; Promotional Offer – $269 (23% off)
– 3+ days / week = 2 months = $441; Promotional Offer – $329 (25% off)
– We can offer 1 month at a time also, parent just needs to ask.
NOTE: If anyone is willing to sign up now and want to start immediately, we will offer March Training at no extra cost!
---
2.) Off-Season – Part B (Timeline: June – Aug – 3 months)
> Elite Performance Camp – 10 weeks – Schedule is broken into 2 5-week segments
> This would be for Jr Brahmas 13yrs +
> High Intense Collegiate Type Training to Pick Up Big Gains / Improve Strength; Quickness; and Agility
> Dates are: May 29 – June 30th / July 10th – August 11th — Total # of Workouts = 50 sessions
> Pricing: Valued at $1,749; D1 to offer Jr Brahma Hockey a $1,000 off – $749 ($15/workout)
> Times: Should be in the mornings so players can still hit their private lessons and on-ice sessions
---
3.) Personal Training / Semi-Private With a Strength Coach – A customized program focused on improving all aspects of strength & conditioning
> D1 on 1 – Pricing: Valued at $120/session; D1 to offer Jr Brahma Hockey Players over 40% off – $70 (minimum sessions apply)
> Semi-Private or Small Group also available – To work on specifics with a Strength Coach – As low as $45/athlete (min of 4 people) …
---
4.) Summer Membership (Timeline: May 29 – August 31st) – Available to any players 18yrs or younger
> Details for this are still forthcoming on this …. But this is a great option at the best price throughout the summer
> As we finalize details, our team will follow up with y'all about this as well.
---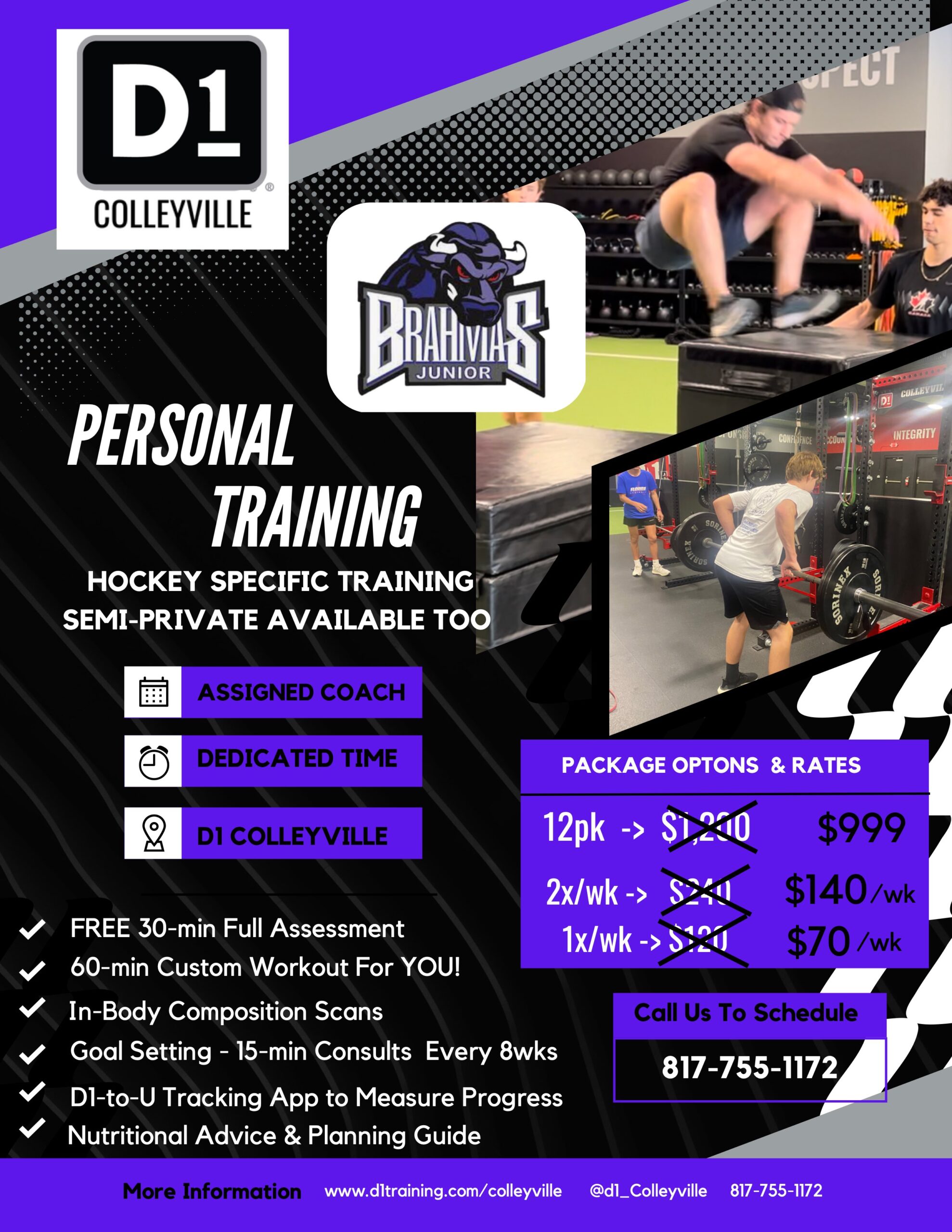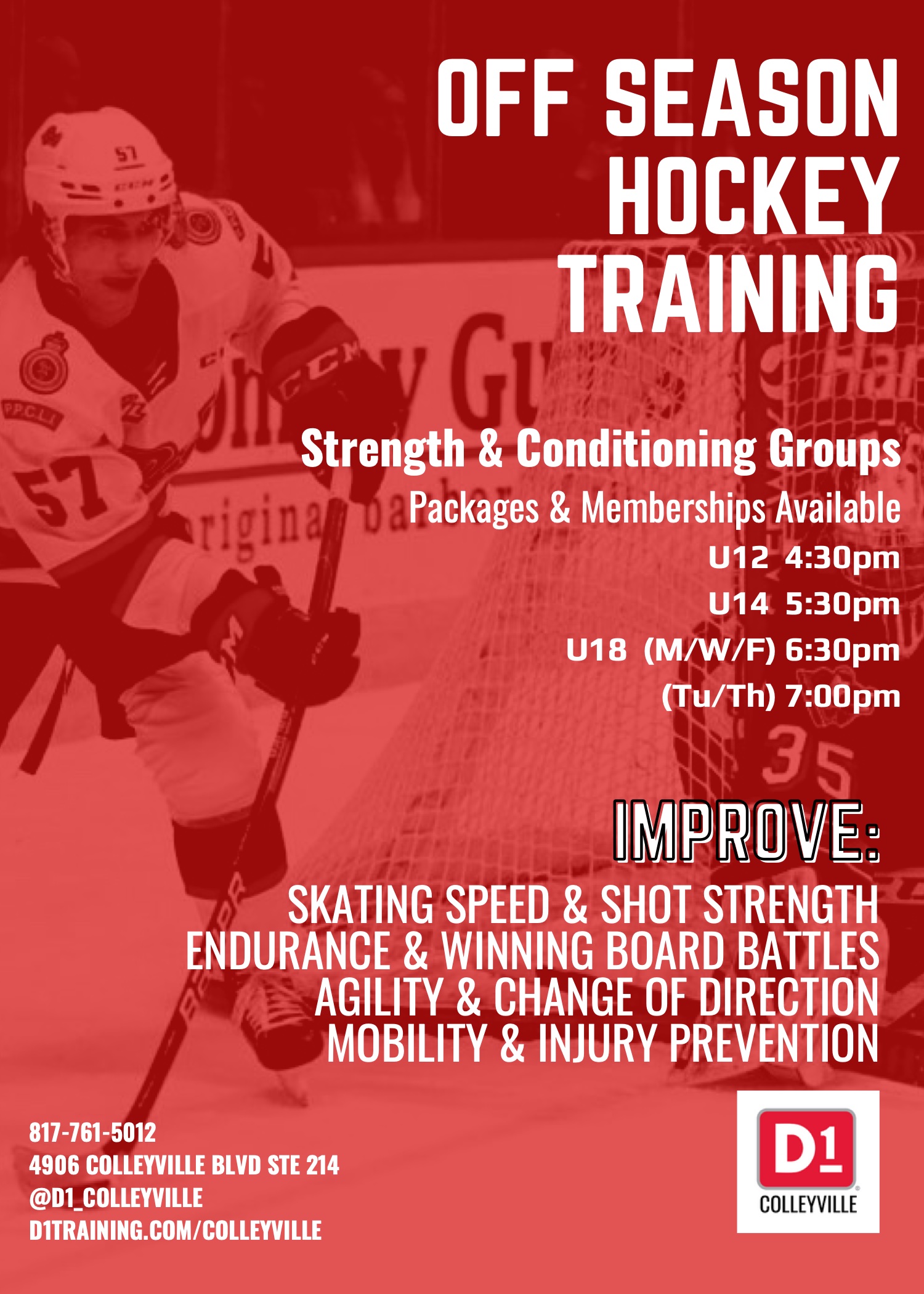 ARCHIVED POSTS:
FOR IMMEDIATE PRESS RELEASE
NYTEX SPORTS SIGNS DEAL WITH D1 TRAINING FACILITY
NORTH RICHLAND HILLS, TEXAS –
The summer of 2022 brings big changes for the Brahmas, as they sign a three-year contract with D1 Training Facility, today, June 30th, 2022. NYTEX's 16U, 18U, NA3, and NA players will now all be performing their off-ice dry land training under the instruction of the D1 staff at D1 Colleyville.
Under the new agreement the 10U, 12U, and 14U players will be trained once a week by the D1 team at NYTEX throughout the DSTHL season. This training will take place in the new facility that D1 is going to renovate inside Olympic Hall at NYTEX assisted by a financial contribution from the Texas Brahmas Youth Hockey Association.
Prior to signing the contract with D1 Training, Chad Siewert, Vice President of the Lone Star Brahmas and President of the TBYHA, remarked, "We are excited to partner with D1 Colleyville. Derek and his team have all the latest and greatest training and tools to really help make the Brahma brand better top to bottom. Brahma Land just added a very powerful partner that will take our athletes to the next level."
There is a plethora of benefits to elevate each player's game from this contract signing. All athletes will have access to the state-of-the-art D1 app which will track and chart their progress throughout the season. D1 will help our players rise to the next level of not just dry land training, but hockey as well. D1 Facility Owner, Derek Michels, is no stranger to the game of hockey, for he is a hockey parent with one child currently playing in the DSTHL and one in Canada playing in the WHL. All workouts are tailored to the sport and will be designed to help take the players to the next level, becoming the best hockey players they can be.
As the athletes are readily preparing for the upcoming season, NYTEX sports is making great strides to equip their athletes with the best tools for success in the upcoming season, and years to come.
Lone Star Brahmas Media Department Intern Brooklynn Gravel contributed to this press release.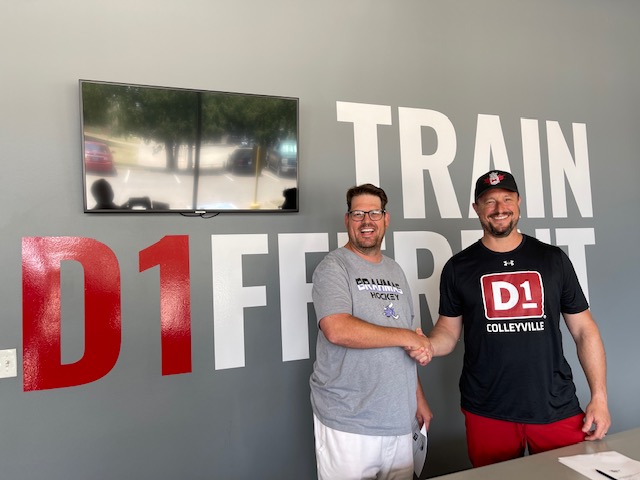 #NYTEX #NYTEXsports #LoneStarBrahmas #D1Colleyville #NAHL #NA3HL #JUNIORBRAHMAS #DSTHL #DSMHL #WILDFONG #SIEWERT #BROOKLYNNGRAVEL #BROOKLYNN #GRAVEL #TBYHA #JRBRAHMAS