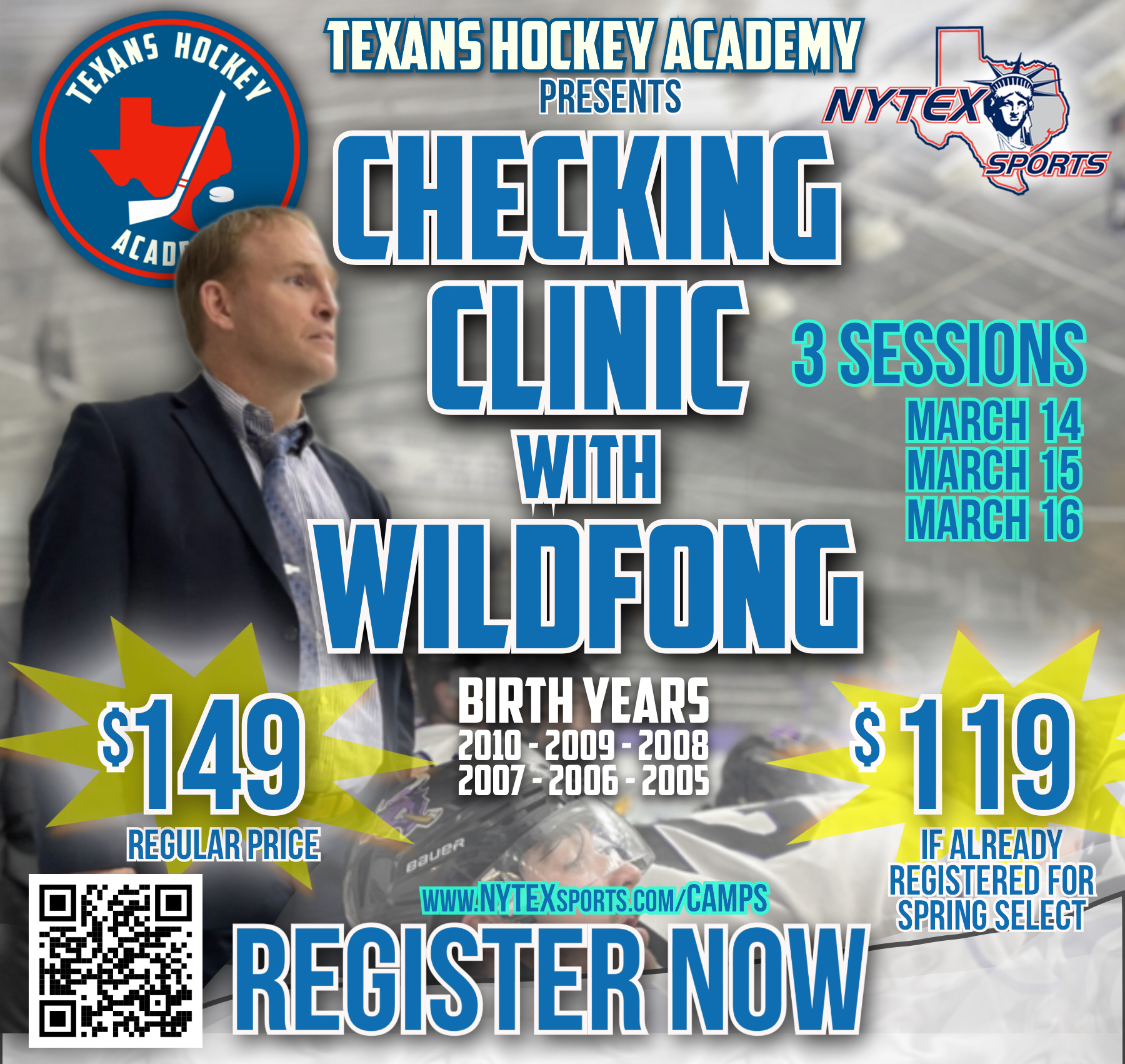 CHECKING CLINIC WITH WILDFONG JUST ANNOUNCED!
BIRTH YEARS 2005 – 2006 – 2007 – 2008 – 2009 – 2010
THREE SESSIONS!
ONE HOUR EACH – 6:45PM – 7:45PM
TUES MARCH 14th, WEDS MARCH 15th, & THURS MARCH 16th
Due to the strong interest in the checking fundamentals to be covered during our Spring Select 14U-through-MD levels, we have added a separate clinic dedicated to checking and will be led by Head Instructor Dan Wildfong! Three sessions with Wildfong, one hour each, dedicated to proper checking technique.
There are two ways to register: "A la carte" is $149 and "Spring Select Upgrade" is $119 for any player already signed up for Spring Select.
This clinic is prior to and separate from the Spring Select camp now registering.
---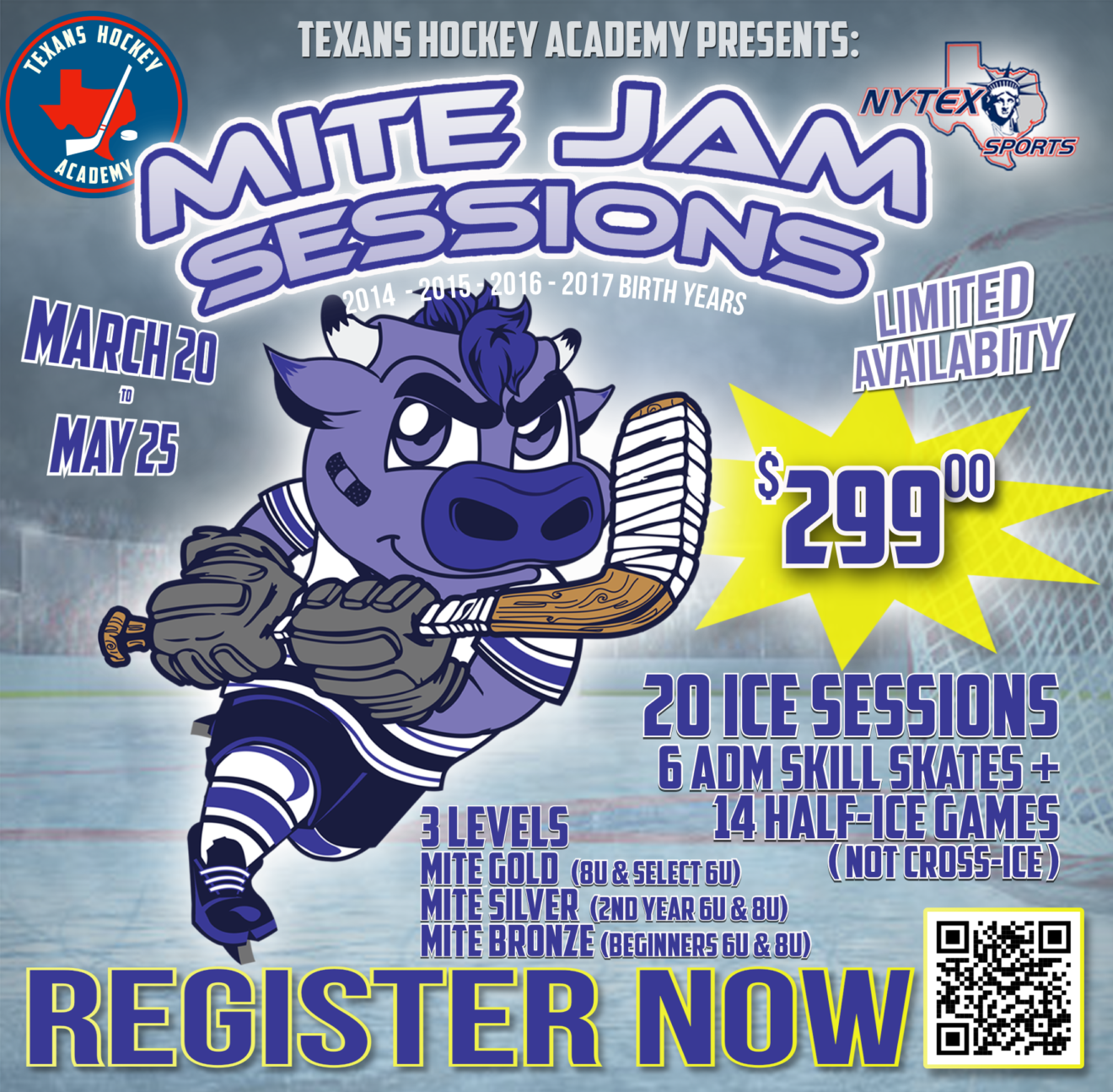 March 20 through May 25
(2014 – 2015 – 2016 – 2017 birth years)
Weekend Games and Clinics – Partial Schedule Released – Full Schedule details soon!
20 Ice Sessions!
+ BONUS SKATE JUST ANNOUNCED!
6 ADM Skill Skates +
14 HALF-ICE games!
( not cross-ice )
3 LEVELS!
Mite Gold (8U & Select 6U)
Mite Silver (2nd year 6U & 8U)
Mite Bronze (beginners 6U & 8U)
---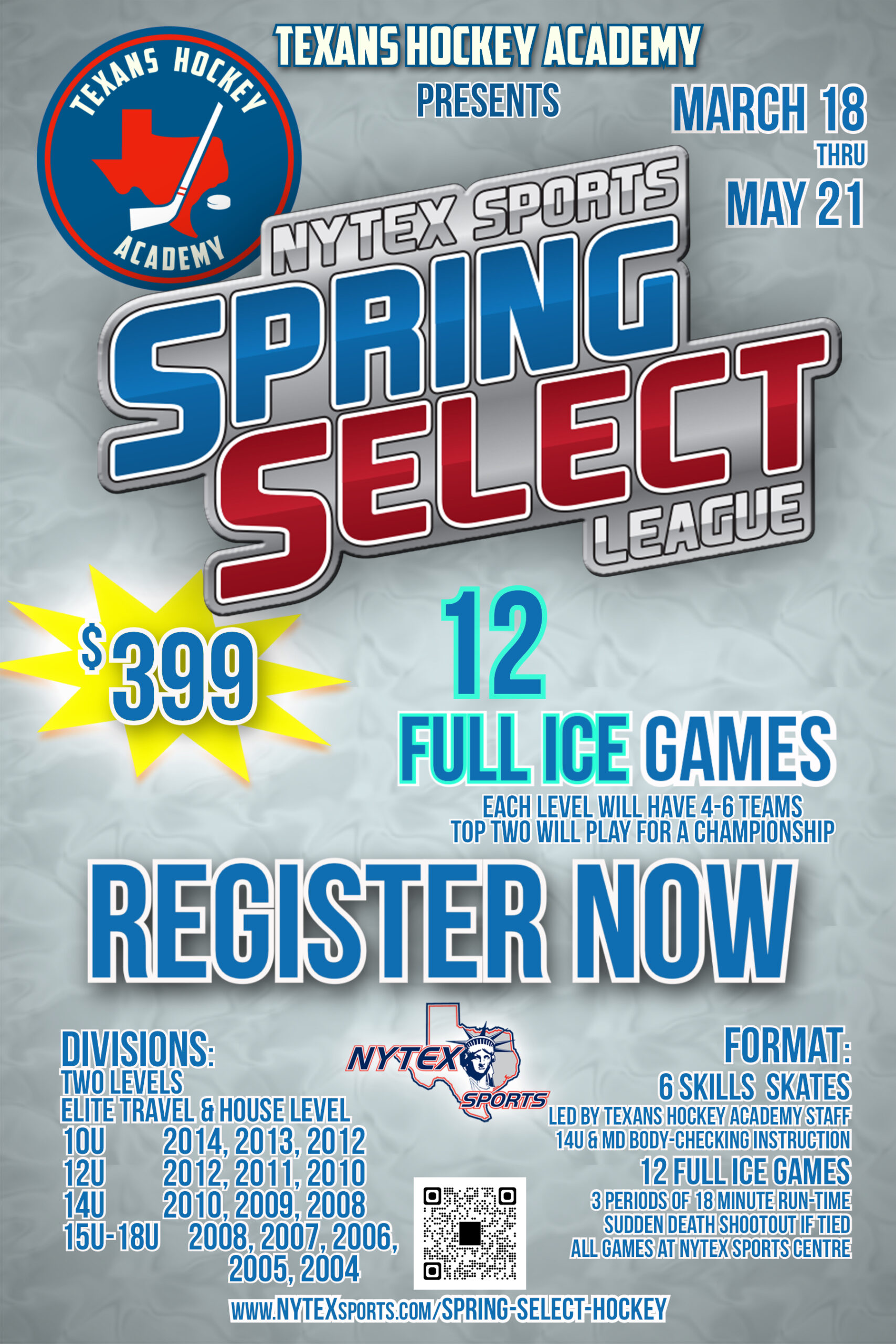 SPRING SELECT FORMAT:
6 SKILLS SKATES
Led by Texans Hockey Academy staff
14U & MD Body-Checking instruction included
12 FULL ICE GAMES
3 Periods of 18 minute run-time
Sudden Death Shootout if tied
All games at NYTEX Sports Centre
---
March 18 – May 21
---
DIVISIONS:
TWO LEVELS – ELITE TRAVEL & HOUSE LEVEL
10U 2014, 2013, 2012
12U 2012, 2011, 2010
14U 2010, 2009, 2008
15U-18U 2008, 2007, 2006, 2005, 2004
---
SCHEDULE
ALL DATES & TIMES SUBJECT TO CHANGE
MORE DATES AND TIMES ARE TO BE ANNOUNCED SOON!
We have released the first half of the Spring Select Schedule for the convenience of immediate logistics planning. We are working to finalize the back half of the schedule, however there are some NAHL and NA3HL Playoffs scheduling logistics that are needing to be finalized first. This critical piece of the puzzle should be in place in the very near future. We apologize for any inconvenience, and this is the reason WE HAVE ADDED SEVERAL BONUS SESSIONS STARTING PRIOR TO THE MARCH 18 START DATE!

---
Mites (Gold, Silver, and Bronze)
---
10U (House Division)
---
10U (Elite Division)
---
12U (House, Elite and Combo)
---
14U (Combined House and Elite)
---
MD
---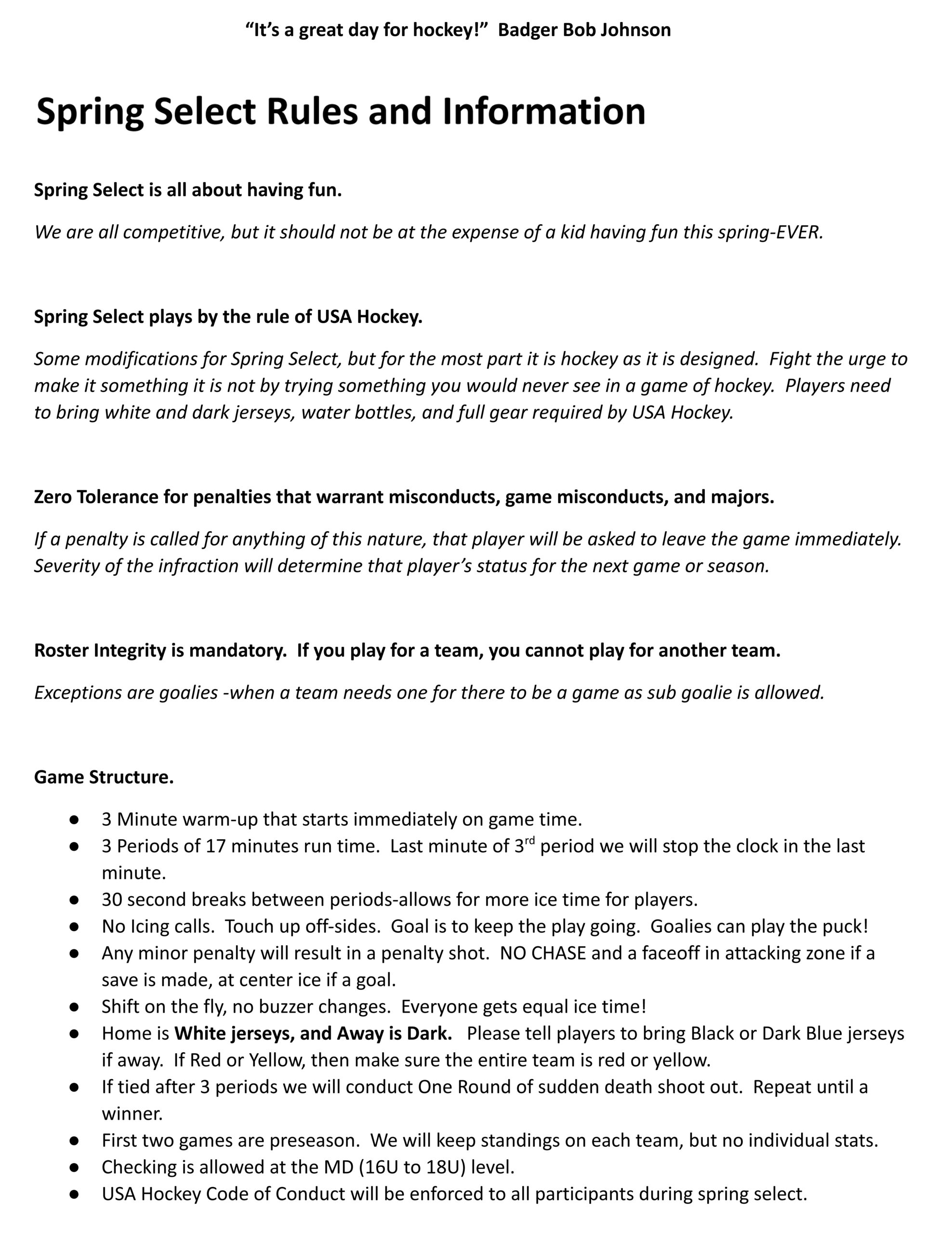 ---
Spring Select Game Schedule TBA
---
Spring Select FAQ
Q: Will the teams to be named have jerseys, and stats kept?
A: Each team will pick a name. Each player brings a white and a dark jersey to games. We will track team wins and losses only.
Q: Will there be referees or officials?
A: Each game will be officiated by a USA Hockey official.
Q: Are there practices?
A: Coach Looks are the activities most resembling practices. Spring Select is about having fun and is "all games."
Q: Will there be playoffs? and who makes it?
A: Each team makes the playoffs and they start the first week of June.
Q: Will there be any events over the Memorial Day holiday weekend?
A: No, we will take that weekend off!
---
Wondering what to do after your winter season?
Spring Selects is for you! The NYTEX Spring Selects season will run through March 26th- June 5th and is the best way to keep your athlete active and competing this off season. The league is made up of two levels to ensure your player gets the most out of their experience.
Gold- For Travel Players or players looking to play Travel in the upcoming season
Silver- For beginner hockey players and House players
---
Information for upcoming 2022 season is here! – Please contact [email protected] with any further questions about Spring Select
---